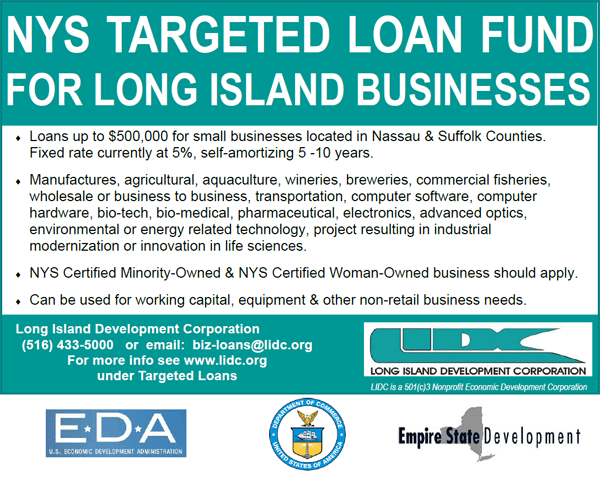 NEW YORK STATE TARGETED LOAN FUND
FOR BUSINESSES LOCATED IN NASSAU & SUFFOLK COUNTIES

Loans up to $500,000 for small businesses located in Nassau & Suffolk Counties. Fixed rate currently at 5%, self-amortizing 5-10 years.
Manufactures, agricultural, aquaculture, wineries, breweries, commercial fisheries, wholesale or business to business, transportation, computer software, computer hardware, bio tech, bio medical, pharmaceutical, electronics, advanced optics, environmental or energy related technology, project resulting in industrial modernization or innovation in life sciences.
NYS Certified Minority-Owned & NYS Certified Woman-Owned business should apply.
Can be used for working capital, equipment & other non-retail business needs.
For more information, please call: 516 433 5000 biz-loans@lidc.org

Sponsored by:

Empire State Development (NYS) and
US Dept Commerce/Economic Development Administration