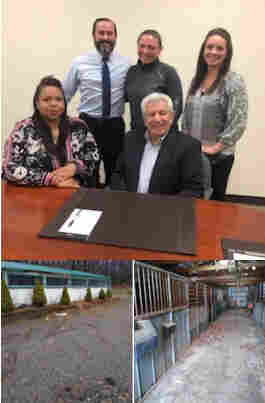 DDR Farms, Inc.
DDR Farm, Inc. is an equestrian farm and stable facilities located in Suffolk County, Huntington, NY, offering equestrian services, boarding of horses, training, riding lessons and trail rides. The company was awarded the facility located in West Hills County Park to operate the farm from Suffolk County. DDR has been awarded to access Stable Concession facilities at West Hills Country Club located at 160 Sweet Hollow Road, Huntington, NY, a 900-acre scenic bridle paths and hiking trails to operate a horse farm. The vision for the horse farm is to make horses available to as many people in the community as possible. It is also important for them to give their horses the best life possible. To attract patrons the plan is to use social media, community outreach groups, animal rescue organizations and school groups. All staff members will be carefully trained by management to provide a clean, safe and welcoming environment for patrons. All the activities offered by the stable will provide patrons with an education in horsemanship, and therefore and opportunity to stay on as staff members or go out into the wider horse community. Seated (L-R) Gina Slater Parker, LIDC's President & CEO, Carmine Fabio, LIDC Loan Officer, (Standing L-R) Dennis & Diana Russo, Owners of DDR Farms, Inc. and Kristen Frascatore, LIDC Loan Officer.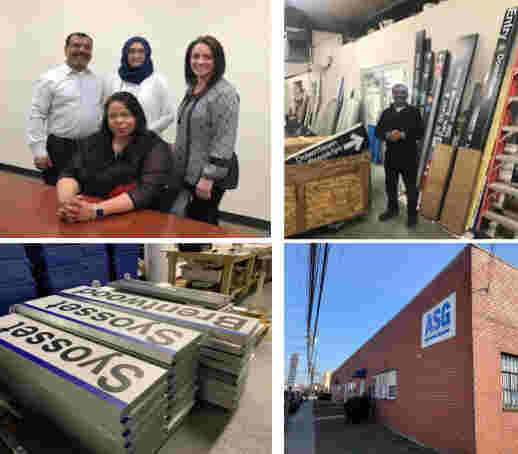 Architectural Sign Group Inc.
Architectural Sign Group Inc. (ASG) is a New York State Corporation, established 2001, as a home-based consulting business, and owned solely by Rehana Jaffer. In 2010, Rehana's husband, Abbas, joined the company and they leased office and manufacturing space in Elmont, New York. Together the couple grew their staff from 4 to 15 employees to date. ASG is a full-service signage-mfg firm that provides, designs, fabricates, manages, and installs architectural signage projects in the tri-state area for both, private and public sectors. ASG received their first loan from LIDC in 2013. In March, 2019, they have recently secured a new NYS Targeted loan, to be utilized for materials, supplies, fabrication, finance new hires and maintaining contract compliance for new contracts/agreements and existing work-orders. Also to fund market expansion in the private sector. Shown above is Abbas & Rehana Jaffer, Kristen Frascatore, LIDC Loan Officer and Gina Slater Parker (seated) LIDC President & CEO. Congratulations to Rehana & Abbas Jaffer.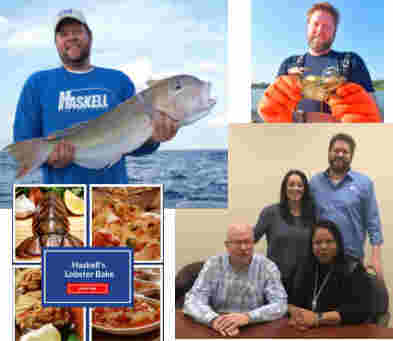 Excelsior Fish Corporation - Haskell's Seafood
Excelsior Fish Corporation, founded by Capt. Peter Haskell in 2007 is the parent corporation of Haskell's Seafood, established in 2015 located at the Calverton Incubator, Haskell's Bait and Tackle, established 2007 at Quogue, NY, and Haskell's Outpost in 2013 at Westhampton, NY.
Haskell's Seafood,is the youngest and most potentially expansive business of the Excelsior family, and has been a tenant at the Calverton Incubator since December 2015. They are now poised to build a cold processing room at the Calverton Incubator that will be a working and profitable model that will demonstrate the key attributes of a larger facility to be outfitted within three years or less. A cold processing room will allow the company to reduce the time spent trimming, and cutting product.
Excelsior, under the Haskell Seafood business, is preparing to provide lunches to schools on the east end. Meetings and arrangements are currently being held with Haskell's Seafood and the Hampton's school districts for the Sustainable Seafood School Lunch Program, as the program is being fine tuned to roll out this year. The lunch program will serve 200 -300 students. Shown above at LIDC's corporate office, (seated L-R) Philip N. Ballin, LIDC Board Member; Gina Slater Parker, President & CEO LIDC; (standing L-R) Kristen Frascatore, Loan Officer, LIDC and Captain Peter Haskell, President, Excelsior Fish Corporation. We wish Peter much continued success.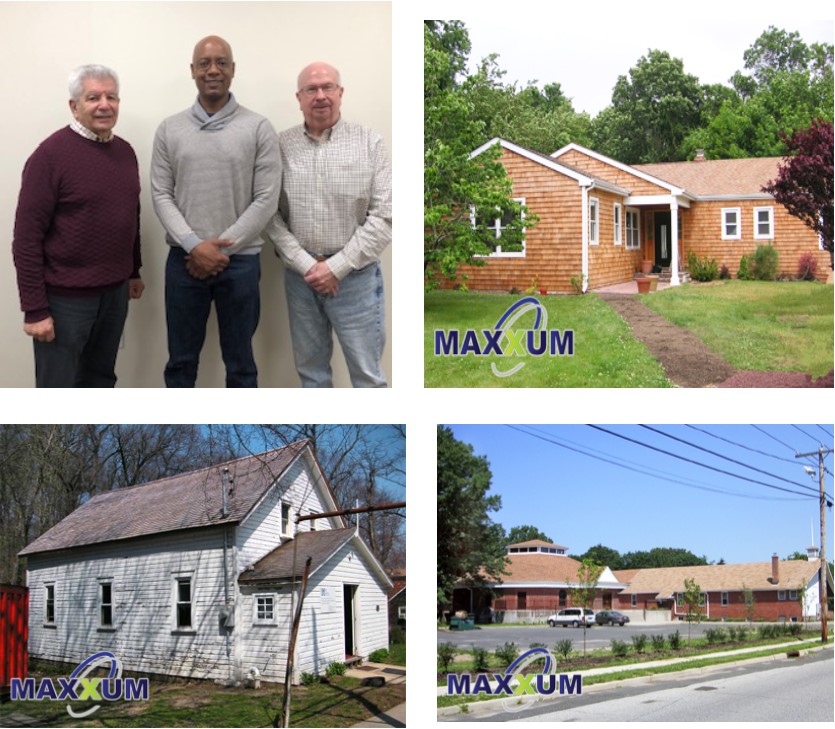 Maxxuum Construction Corp
Maxxuum Construction Corp (Maxxum) is a non-union certified DBE and 100% MBE construction management firm located in Long Island, NY. Founded in 2001 by Mr. Mahabeer, Maxxum provides construction related services and solutions in the commercial, residential and government sectors. Maxxum has completed new construction, renovations and historic preservation services for many clients while developing new client relationships. Maxxum is licensed, insured and bonded to meet the requirements of current and future clients. Loan will be used for additional working capital to complete four existing government and residential contracts. Shown above (L-R): Carmine Fabio, LIDC Loan Officer, Michael Mahabeer, President Maxxum Construction Corp.; Phillip Ballin, LIDC Board Member.